ISO Series pumps – Hydraulic Drive
Based in Perth, WA, Stalker Pumps have been proudly manufacturing pumps since 1923. MTP is proud to be the exclusive distributor of the Stalker Pump range.
MTP stock the full range of the Stalker ISO 2858 Motor Pumps and spares. We also custom manufacture ISO Pumps via the Stalker foundry in Perth to meet individual pump requirements.
The Stalker ISO motor pump range is suitable for heavy duty applications including mining, construction, chemical transfer and more.
Material options include:
Cast iron, aluminium bronze, 316 stainless steel and carbon/ceramic/NBR unbalanced mechanical seal,
The range is available in bare shaft, direct coupled and motor pump configurations.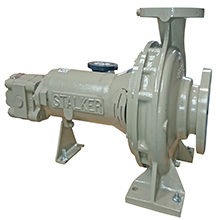 Pump manufactured to ISO 2858 and 5199 standard
Back pull out facility
Max operating pressure 1600kPa (up to 2500kPa available on request)
Max speed 1800–3600rpm (dependent on pump model)
Max temp with standard mechanical seal shaft sealing arrangement is -10°C to 120°C
Heavy duty shaft
Head up to 160m
Range of construction material including austenitic iron, stainless steel, duplex, alloy 20, 27% chrome cast steel
Flow up to 250L/s
Mining
Mineral process
Irrigation
Circulation of liquids
Commercial pools
Dust suppression
Chemical transfer
Sea water transfer
Construction